3 Essential Springtime Trucking Services in New York
Without a doubt, spring is one of the busiest times of the year for union trucking. In addition, spring in New York City and the Metropolitan area is doubly chaotic, considering the inherent challenges of the region. However, which specific services are in highest demand during spring? Now that spring is right on the horizon, it's best to understand which trucking services are most essential throughout the season.
At Iron Horse Transport, trucking is our area of expertise. After several decades of delivering exceptional union trucking services to the New York area, we understand the industry very well. Of course, after so many years, it's safe to say we're New York's foremost trucking professionals. Therefore, there isn't a shift or a seasonal trend within this industry we're not familiar with. Like any industry, trucking sees its fair share of seasonal ups and downs.
In this post, we'll explore the three services that are the most vital during spring.
1. Final Mile Delivery
Obviously, final mile delivery is a spring time essential for most union job sites. In fact, final mile delivery maintains most of its popularity throughout the year, even during the winter. Like all of our services, final mile delivery is carefully refined to provide as many benefits as possible. Timely deliveries, safe and secure cargo, customer support and total convenience make this service a celebrated favorite among most union crews. In fact, final mile delivery is popular in the residential sector, as well.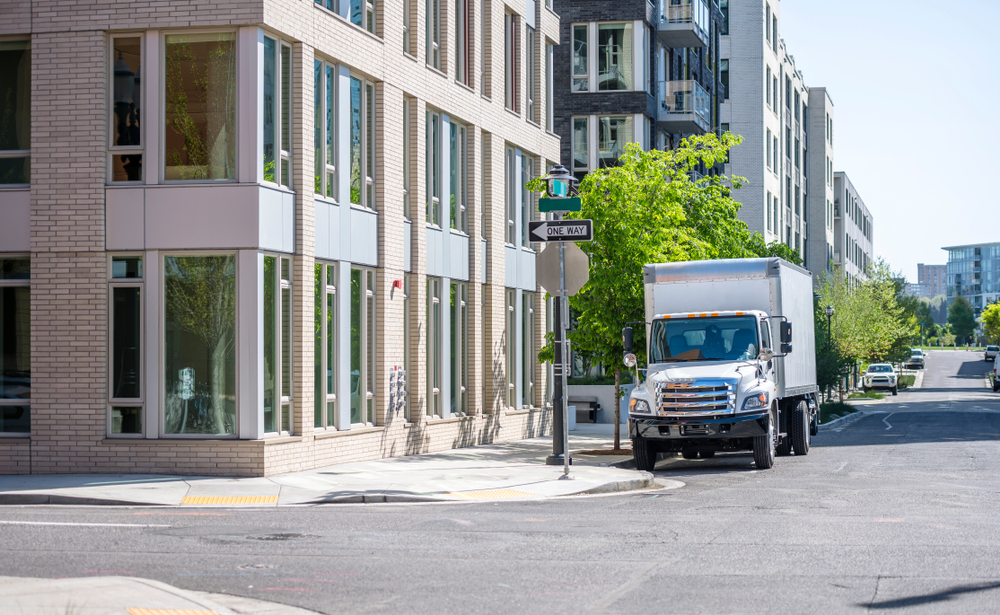 Basically, final mile delivery involves transporting goods from a specific origin point (like a cross freight station) to its destination. Of course, New York is notorious for difficult driving conditions. And in large, commercial vehicles, it's even more challenging. Transporting freight through New York City and the five boroughs to the construction site is often more expensive than cross-country shipping. Because of strict parking regulations, traffic volumes and other complications, it's also a lot more logistically complex. Therefore, final mile delivery from Iron Horse Transport is the simplest way to remove these unnecessary costs and complexities and receive swift, efficient deliveries.
2. Over-Dimensional Transport
Have you ever seen a material or structure that's absolutely enormous and thought to yourself: "how do they ship that?" Well, here's your answer! Spring is when construction companies gear up and prepare for their massive summer projects. Of course, many of these projects necessitate huge, inflexible materials. Standard-size dry van trailers can't accommodate these. Therefore, over-dimensional shipping is your solution.
At Iron Horse Transport, union crews rely on our over-dimensional transport services to safely deliver whatever oversized cargo they may need for their summer jobs. It isn't just about having the right-size vehicle to accommodate the load. Also, it's about having the right permits and legal authorization, safety equipment, route surveys and more. Shipping over-dimensional cargo is difficult and dangerous anywhere. However, in New York City, it requires the utmost precision, precaution and professionalism.
3. Truck-Mounted Forklifts
When it comes to delivering convenience, truck-mounted forklifts are a distinctively exceptional service option. Without a doubt, these are among the most versatile ways to streamline productivity and save a lot of work time. Some within the industry also refer to these as "piggy-back" forklifts. These provide a remarkable service for any business in the spring, not just construction.
Truck-mounted forklifts are compact (but very strong) vehicles that we transport on our trailers along with your cargo. This way, when your shipment arrives, so does the necessary unloading tool. With our truck-mounted forklifts, you won't have to waste any time trying to assemble an unloading crew or waiting on your forklift operator. Our drivers can instantly dismount the forklift and begin unloading your shipment the second it arrives. This will prevent any disruptions in your work output and save your business incalculable time.
Conclusion – Iron Horse Transport
No matter what season you need reliable trucking, we're always prepared to deliver it. These three services are sure to make your spring time significantly easier, no matter what your industry may be. Our unbeatable drivers and back-office support staff work hand-in-hand to provide our clients with the finest trucking services available through every month of the year.