Going the Extra Mile
To Job Sites and Beyond
Cross-country trucking companies can transport from one point to another. However, can they drive the final mile in New York City?
The last mile of delivery through NYC and the 5 boroughs requires specific knowledge and capabilities. Our Final Mile Delivery Service will safely transport your merchandise from local warehouses to the job site.
What is Final Mile Delivery?
The term Final (or last) Mile Delivery is a service where goods are transported from a hub to the final destination.
Transporting freight through New York City and the five boroughs to the destination is often more expensive than cross-country shipping. Because urban areas have strict parking regulations, backed-up traffic, and other complications, it is also the most logistically complex leg of the journey.
At Iron Horse Transport, we provide time-effective and safe final mile delivery services across NYC, the 5 boroughs, and Long Island.
Unique Access to NYC Job Sites
As a union trucking company, our drivers have been traveling with freight through NYC for over 20 years. We understand the careful navigation involved in transporting freight to job sites.
During this time, we have built close business relationships with job site superintendents. Iron Horse Transport is recognized as an authority in the trucking industry. These relationships are invaluable in ensuring that freight arrives at job sites in a timely manner, without bureaucratic obstacles.
Qualified Final Mile Delivery
Shipping regulations are much more restrictive in urban areas than on interstate highways. In order for truck drivers to legally perform a final mile delivery, they must have a certificate of insurance. This certificate permits them to back into the loading dock and cross dock.
With these qualifications, our NY trucking company is uniquely suited to facilitate final mile delivery for your freight.
Final Mile Residential Shipping
Final mile delivery is growing in popularity within the residential sector as well. Retail trucking companies are often not capable of delivering home appliances to apartment buildings within NYC. By contacting Iron Horse Transport, you can ensure the safe and uneventful arrival of any freight.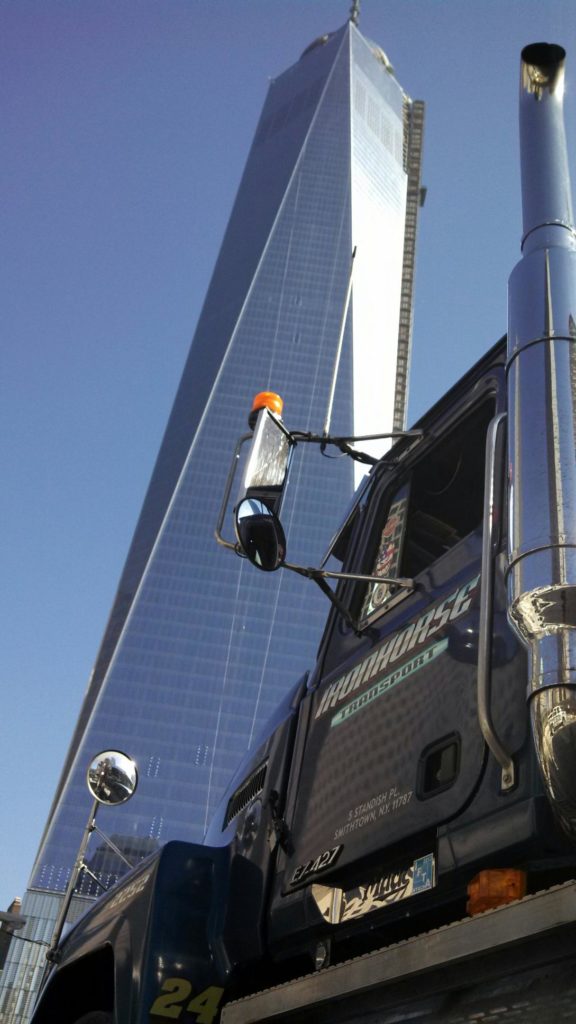 Iron Horse Trucks for All Your Final Mile Needs
Our trucking company is fully equipped with a versatile fleet of trucks intended for all purposes, including:
Dry Van Trucks- For freight that is vulnerable to rain, heat, or wind damage, dry van trucking is ideal. Dry van trucks utilize long, enclosed cabs that protect the freight from any and all damage, ensuring a smooth experience. They are generally used for transporting finished goods, such as palletized flooring, furniture, electrical equipment, and carpeting. Our NY trucking company has dry van trucks that are 28, 48, and 53 feet long.
Flatbed Trailer- These trucks are generally used to transport unfinished materials, such as building-essential appliances, lumber, concrete and more. Flatbed truck freight is easily accessed by forklifts, which can quickly and effectively remove freight upon arrival at the job site. We offer three variations to the flatbed trailer, including:
Step deck trailer: The beds on step deck trailers sit lower than normal flatbed trailers.
Double-drop trailer: The bed sits even lower than step-deck trailers, allowing for transportation of even taller freight.
Double drop stretch trailer: These trailers sit as low as double-drop trailers, but are even wider.