Iron Horse Transport has earned its reputation as an elite New York trucking company because of our unwavering commitment to on-time shipping and customer-first approach. With a focus on shipping materials and machinery to union job sites, we have years of experience in delivering freight safely and on-time.
To provide our customers with the best service possible, we tailor our delivery method based on the specific freight. Shipping experts handle freight shipping to a NYC union job site differently depending on the packaging. Our wide-ranging fleet of trucks is fully capable of satisfying any delivery needs, including final mile delivery to the job site.
With over ten years of NYC union delivery experience, our drivers are dedicated to keeping your freight safe and your building timeline on-track. As union members, our drivers can access job sites in a faster and more efficient manner.
What Are Flatbed Trucks?
Flatbed trucks are cabs that connect with long, uncovered, horizontal beds. These beds have a variety of uses. First and foremost, flatbed trucks can transport palletized freight like tiles, bricks, or other construction materials. Overweight or oversized freight, like machinery, can also be mounted on flatbed trucks.
Click the PLAY on the video below to see an 80 foot stretch load in action…
Flatbed Truck Transport Services
Once a delivery truck arrives on your union job site, you want the freight unloaded as quickly as possible. Flatbed truck transport services consistently make this a reality.
Flatbed trailers are primarily used by drivers to transport construction materials in bulk, such as large PVC pipes, large quantities of steel sheets, rebar, and other stackable materials. Bundles or pallets of this material can be secured using straps, allowing for a safe and uneventful delivery. The flatbed trailer allows easy access for a crane or forklift to instantly remove the freight. Unloading is quick, simple, and limits the number of people involved, keeping your construction team occupied.
Some of the freight we transport by flatbed:
Palletized materials
Crated machinery
Lumber
Steel Sheets
Statues
Vehicles
Forklifts
Stone or Granite Slabs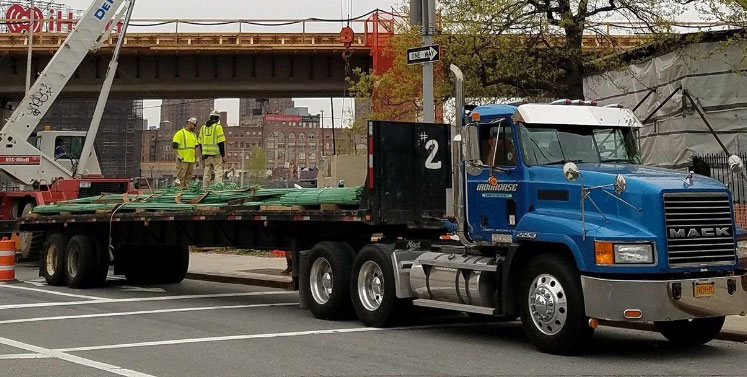 And much more! Our New York trucking company makes the unload process simple, safe, and entirely machine-dependent.
Forklift Freight Removal Services
At Iron Horse Transport, all of our drivers are certified forklift operators. After transporting your freight to the job site, we offer easy removal through a forklift. Because palletized and stacked materials are easily accessible, forklifts can lift and remove this freight with ease. Once the freight is lifted, the forklift operator can place it in the most convenient location for your team.
Crane Removal Services
When especially heavy equipment is involved, a forklifts may not be enough. We also provide a crane removal service for cumbersome machinery, air conditioners, or other bulky objects. This frees the driver of any removal responsibility, allowing them to instead focus on safe transportation.
Securing Freight For a Sturdy Fit
Flatbed truck transport freight is tightly secured for a smooth and uneventful trip. Our union teamsters secure the freight using nylon straps, which binds the pallets or material bunks to the truck. Larger machinery is secured with metal chains, keeping the freight in place for the duration of the journey. We also put padding in place and prevent the journey from damaging the freight.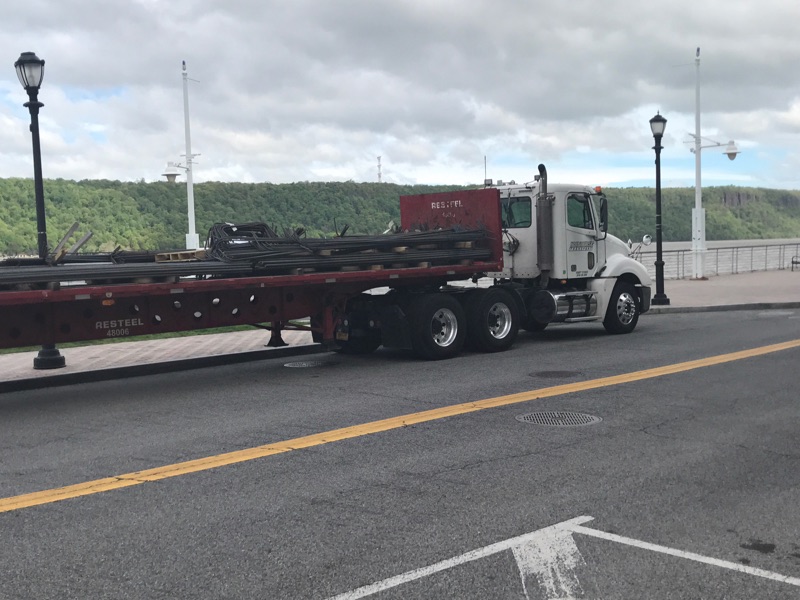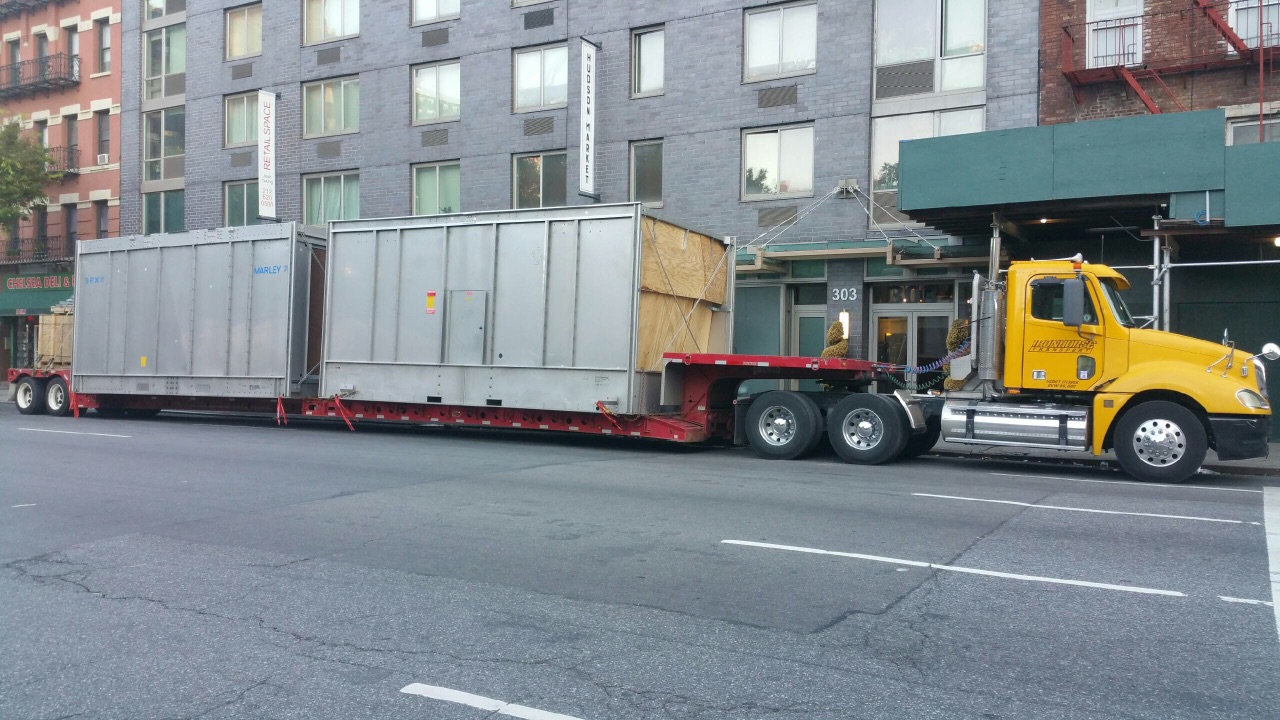 Types of Flatbed Trailers
Depending on the job, we also have specialized flatbed trailers that provide even more delivery options. There are three variations that we carry in our fleet, all of which can be used during over dimensional transport.
Step Deck Trailer
Step deck trailers are lower than standard trailers. With greater clearance, we can transport taller freight, like machinery.
Double Drop Trailer
Even lower than step deck trailers, double drop trailers give us the freedom to transport even taller freight.
Double Drop Stretch Trailer
Double drop stretch trailers allow us to transport freight that is both tall and long.
Contact Us to Manage Your Next Job Site Shipment
Reach out to us and we'll get back to you as soon as possible with more details. Our team is eager to provide the smoothest possible shipping arrangements, and help your projects stay on track.