At Iron Horse Transport, we're passionate about providing trucking services that can't be beat. We carefully calibrate our services to guarantee we're as fast, efficient and reliable as possible. Therefore, we now offer Truck Mounted Forklift services (or "Piggyback forklifts") that will deliver total convenience and boost your productivity. Without a doubt, this is one of our most exceptional and versatile trucking solutions.
About Our Truck-Mounted Forklift Services
No matter your industry, Truck Mounted Forklifts make a tremendous asset to daily operations. With the extraordinary load capacity of 5,500 pounds, our Loadmac forklift can transport your necessary cargo or materials without a hitch. Additionally, our double-reach mast provides the extra convenience of picking from one side of the trailer easily. In New York City, with extremely limited street space, this is a priceless benefit. With this feature, you won't have to move the trailer to pick from the opposite side.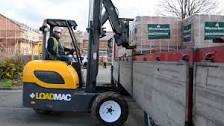 Our trailers transport the forklift on the rear, piggy-back style. Also, with a load capacity of 40,000 pounds, our trailer can carry an exorbitant amount of materials along with your forklift. Occasionally, when terrain is rough or unstable, it's difficult for a forklift to access the work area. However, with our Truck Mounted Forklift services, we can bring the forklift anywhere, regardless of terrain.
Truck-Mounted Forklift: Saves Time & Boosts Productivity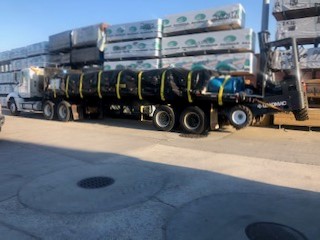 Perhaps the most useful benefit of Truck Mounted Forklift service is the sizable amount of time it saves. This feature permits the driver the ability to load or unload cargo without waiting for help. As a result, productivity increases dramatically. In addition, these forklifts dismount quickly and smoothly, ready to operate instantly. Our truck-mounted forklifts are significantly more agile than traditional forklifts. Therefore, they can navigate areas that are ordinarily more difficult to maneuver.
Every construction industry can use our Truck Mounted Forklift services. Whether you're in masonry, electrical, lumber or otherwise, we can deliver your materials safely and efficiently. Iron Horse Transport has built a sterling reputation on fast, safe and reliable service. Our Truck Mounted Forklift services are the latest addition to our lineup of innovative and efficient transportation solutions.
Click the Play Buttons to See the Truck Mounted Forklifts in Action!!