In NYC, over dimensional transport is difficult to navigate. When you need to transport over sized freight to a job site, you should take comfort in knowing that your freight will be transported safely.
Our over-dimensional transport service facilitates shipments that would otherwise be impossible to transport. As a union trucking company, we ship these materials with the highest degree of care and precaution.
What is Over Dimensional Freight?
When freight cannot fit on a flatbed or trailer, it is considered "over dimensional" freight. As trailers are generally 8 feet wide, freight larger than this would require additional accommodations and caution. In rare cases, freight can extend up to 15 feet wide, meaning that it would hang over the bed.
Additionally, freight that exceeds a certain height when placed on a trailer bed can also be considered over-dimensional transport. After passing a certain height, freight may interfere with signage, bridges, and other low-clearance obstructions. In both of these cases, our NYC trucking company can ensure your freight will safely reach its destination.
These height and width restrictions are especially problematic in NYC. This is because the congested streets make even normal transportation a logistical nightmare. As safe navigation through an urban area is challenging, the need for a reliable trucking company is vital to your business.
There are several factors that we take into consideration to ensure the successful, incident-free transportation of your freight.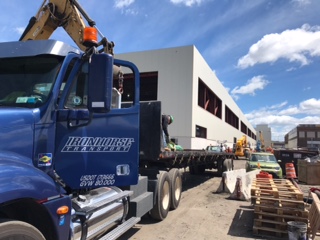 3 Necessities for Over-Dimensional Freight Transport
#1 Safe & Experienced Over-Sized Freight Drivers
At Iron Horse Transport, our drivers have experience in safely transporting freight between union job sites. Our high standards ensure that only the most experienced drivers will be given the responsibility of transporting your freight.
Additionally, our truckers are extremely familiar with the neighborhoods of New York City. This is important for avoiding incidents en route. Finally, our teams ability to properly and safely secure your freight to the trailer in the most effective way possible is invaluable.
Determining the specific route of transportation through NYC requires a god deal of coordination. At Iron Horse Transport, we take all factors into account to determine the best route for your freight.
The most important aspect of the route survey is determining the width of the lanes during transportation. In order to do this, we perform test drives to gauge the size of the lanes, and make sure that the truck and freight can successfully navigate these lanes. Other potential obstacles include overpasses, underpasses, and other restrictions.
#3 Safe Flatbed Trucks
We believe that state-of-the-art trucks should be a priority for safely transporting your freight. All of our trucks are equipped with air-ride suspension. This prevents your freight moving due to potholes, bumps and other obstacles. This top-of-the-line suspension system gives our trucks the resistance they need during trips throughout New York City, where potholes are abundant.
#4 Permits
Due to the many regulations in New York City, our trucking company takes special care to ensure that all violations are avoided. We file for the appropriate permits to transport your freight. This ensures safe and timely delivery to your job site.
---
For more information about how our NYC trucking company can facilitate your over-dimensional transport project, contact us.