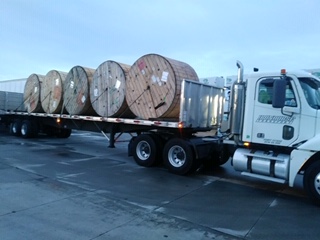 The Most Common Uses for Flatbed Trucking Services
At Iron Horse Transport, one of the ways we've earned our reputation as an exceptional New York trucking company is with our Flatbed Trucking Services.
When it comes to reliable, timely shipments, trucking is now the most popular way to move goods from one place to another during all seasons in New York. At Iron Horse Transport, our experience navigating NYC terrain gives us a unique insight into the logistics of the trucking industry – from union trucking insurance to leading safety features and more.
First, What Are Flatbed Trucks?
Basically, flatbed trucks are cabs that connect with long horizontal beds. (Also, these beds are not covered.) In addition, the beds are ideal for several uses, in numerous disparate industries.
Without a doubt, countless businesses rely on flatbed trucks to deliver just about any materials you could imagine. Lumber, agriculture and basic manufacturing businesses use flatbed trucks on a daily basis, sometimes more than once a day. In fact, flatbed trucks may be the #1 most popular way to ship cargo in the country.
3 Common Uses for Flatbed Trucks
First and foremost, flatbed trucks can move palletized freight like tiles, bricks, or other construction materials. Overweight or over-dimensional freight, like machinery, also ships on flatbed trucks.
Below, find the most common uses of our flatbed trucks here in New York.
1. Construction Materials
Of course, construction/building materials are the quintessential reason for enlisting the help of flatbed trucks. Construction job sites in New York City receive deliveries of bricks, lumber, scaffolding and steel each and every day. Applying these materials to their everyday tasks is one thing. However, simply unloading the cargo is often a job unto itself. Therefore, flat bed trucks present one significant benefit: loading or unloading is simple.
In addition, flatbed trucks are perfect for transporting anything of unconventional size or shape. Usually, these materials can hang over the sides of the truck without any unforeseen problems on the route.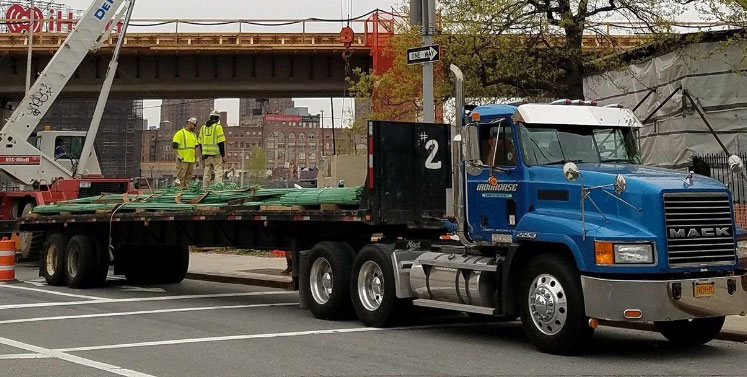 2. Construction Equipment
When a NYC union job site needs equipment, they need it safely, efficiently, and most of all: quickly. Flatbed trucks provide a swift, reliable method of hauling equipment (often very heavy) from their origin to their destination without the significant weight becoming an issue.
Of course, it's very likely that you've already seen a flatbed truck hauling some sort of equipment on the road.  It's not an uncommon occurrence, and union crews consider the safe hauling of costly equipment to be one of the finest benefits of flatbed trucking services.
3. Scrap Metal Removal
Often, construction companies and contractors hire services to load up and haul away any scrap metal linger on their job site. The trucking provider then takes the scrap metal to recycling facilities where they either sell it to another company or find a way to repurpose it. Because they're so easy to load, unload and sometimes to completely dump the contents of the flatbed if necessary, flatbed trucks are perfect for removing scrap metal from job sites.
Conclusion – Flatbed Trucking by Iron Horse Transport
At Iron Horse Transport, we've forged enduring union relationships over the years which better enable us to consistently deliver superior trucking services – including flatbed trucking, regardless of industry. Flatbed trucks are also excellent for landscaping services, agriculture and more.