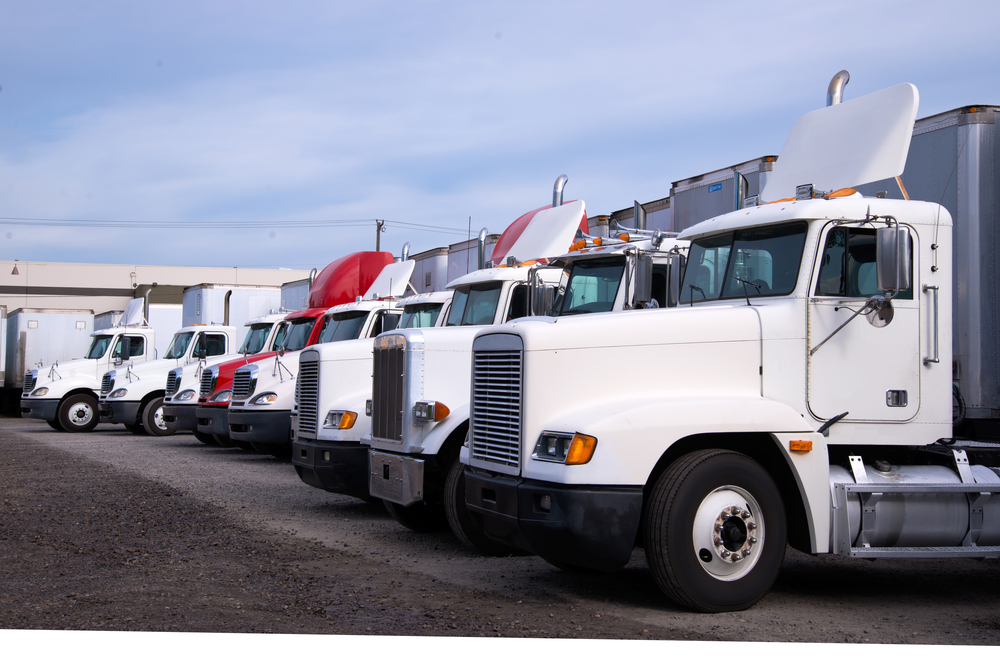 NYC Trucking Company: What kind of trucks do we use?
At Iron Horse Transport, we excel in hauling freight for our union Teamster partners in New York City. But, building projects can run the gamut from new foundation construction to a new heating system. And, based on the materials or appliances involved, the trucks required to accomplish the project can vary as well. As a NYC trucking company, we have a variety of trucks in our fleet, each of which can accomplish a unique objective. Read on to learn about the various types of trucks, and how they enable trucking companies to operate successfully.
1. Basic Style: Flatbed Vs. Dry Van
Regardless of other variables, most NYC trucking company vehicles fall into one of these two categories.
Dry Van
Dry van trucks are the most popular type of truck for NYC trucking companies. When most people think about trucks that haul freight around NYC, they are picturing dry van trucks. And, the reasons behind this are totally valid: dry van trucks are highly adaptable, and can service most needs.
Dry van trucks offer your freight an enclosed space, meaning that it will not sit out in the open air. Regardless of the journey's length, this is an important consideration. So, electrical equipment will not be damaged by rainfall, and PVC pipe will not be exposed to sunlight. With some materials having a longer life than others, remaining conscious of these restrictions is important.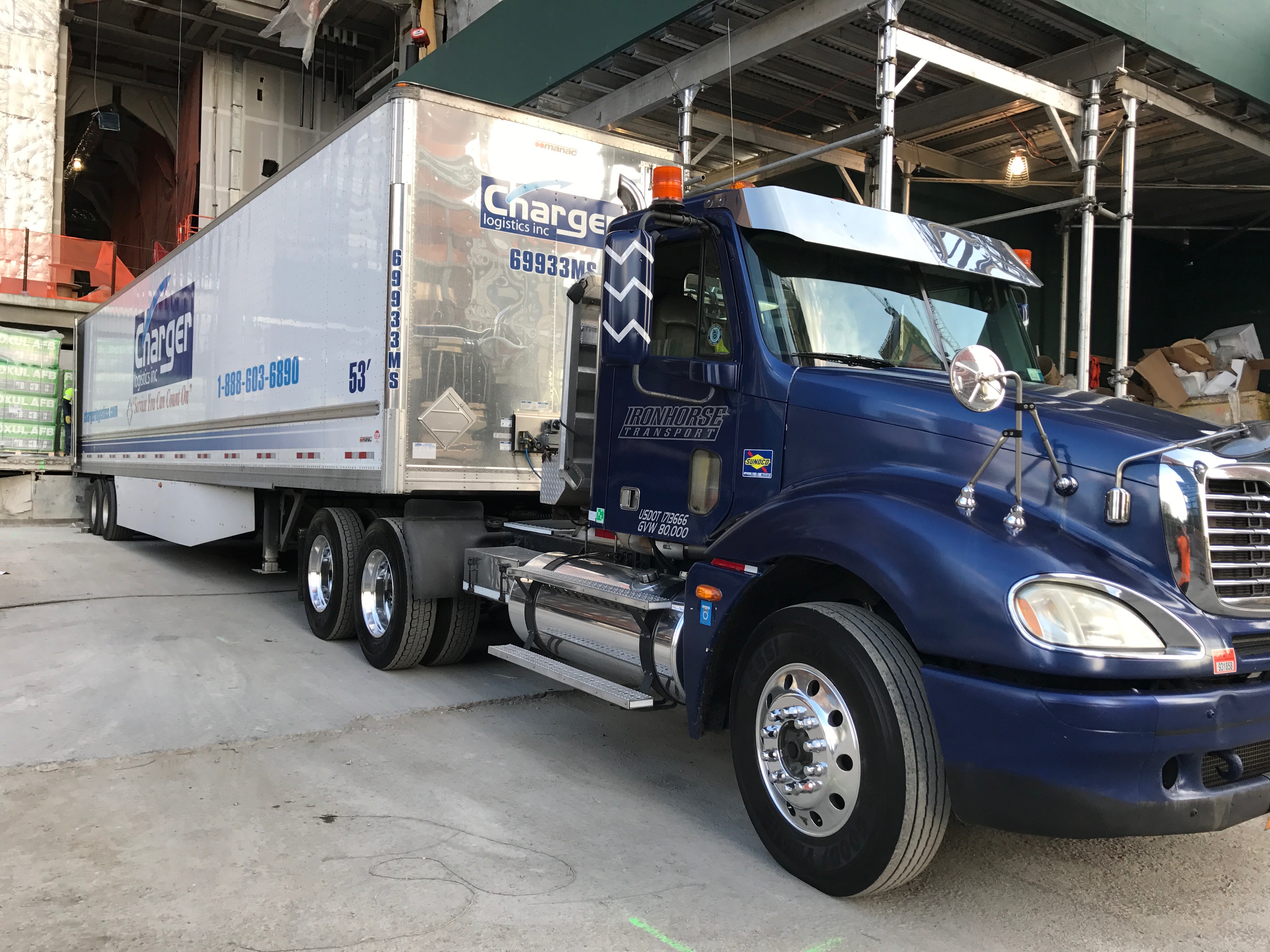 In addition to providing shelter from the elements, dry van trucks also keep construction materials safe from impact-related damage. In the case of a crash, exposed boilers and air conditioning equipment would certainly be damaged. But, thanks to both covering and air-ride suspension, dry van trucks prevent this issue. Beyond that, NYC trucking companies also secure this freight with ratchet ties, protecting it from potential damage.
Flatbed Trucks
Depending on the freight's packaging, flatbed trucks may be the ideal shipment solution. Rather than a long, fortified cab, flatbed trucks have a long, flat bed, which is easy to place materials on. This keeps them easily accessible for removal.
While not the ideal way to transfer appliances (especially in the wintertime), flatbed trucks are critical for NYC trucking companies. Flatbed trucks are also ideal for transporting palletized materials.
Because the freight is not enclosed on a flatbed truck, freight removal is simple. So, removing freight with a crane or other tool is a simple (and effortless) way to unload, and get back to the task at hand.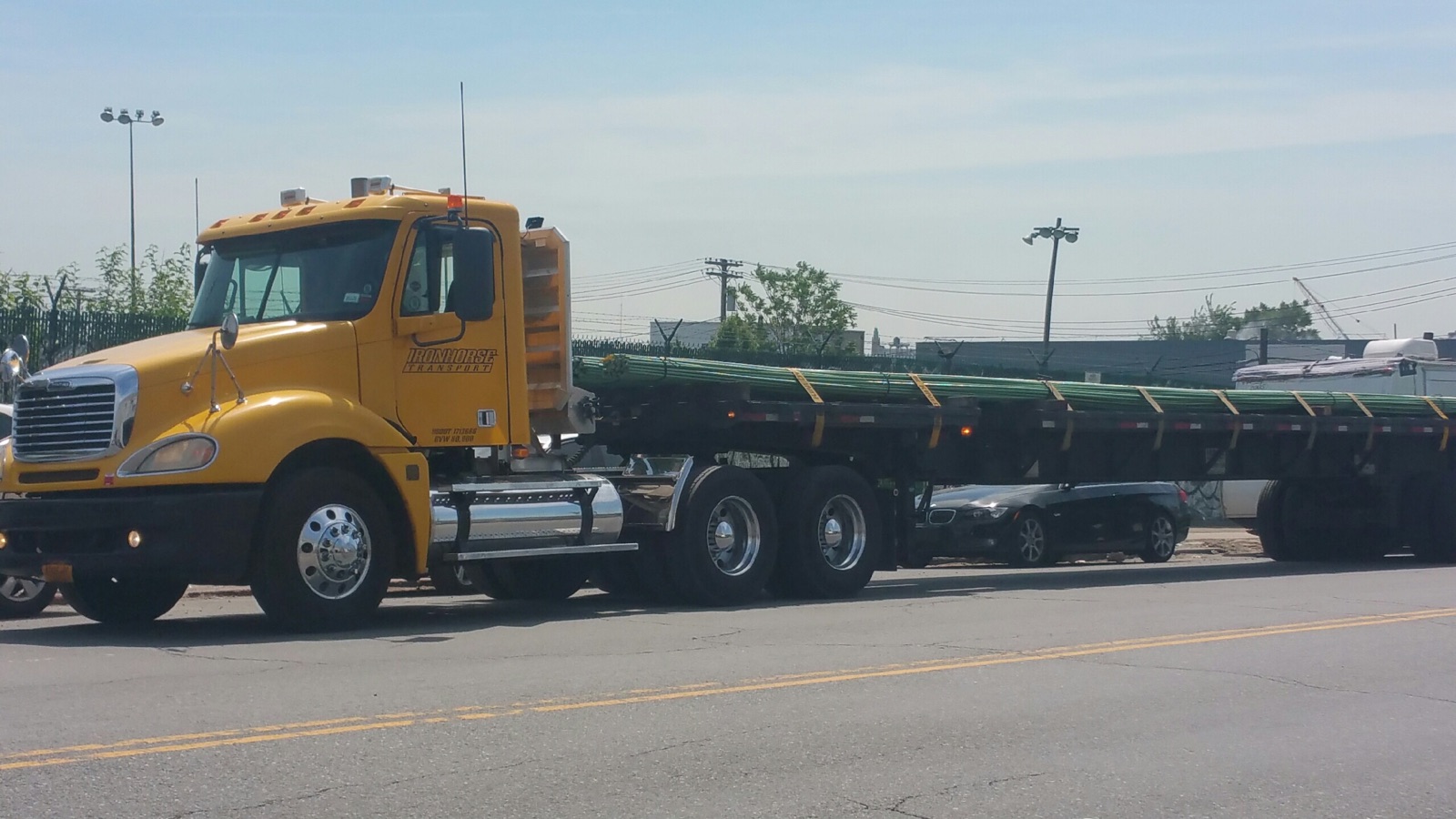 2. Increased Size: Step Deck, Double Drop or Stretch
Not all trucks can service all delivery needs, depending on the size of the freight. But, both flatbed and dry van trucks have size variants, which aim to solve the problem of transporting oversized freight. Through securing this freight, our fleet of trucks can accomplish any goal.
Step Deck Trailer
The step deck trailer accommodates taller freight by lowering the bed. Perfect for large appliances that must be kept upright, trucks in this style can help New York trucking companies in a pinch.
Double Drop Trailer
The double drop trailer accomplishes the same goal as a step deck trailer. But, it brings the freight to an even lower point, enabling trucks to transport taller freight.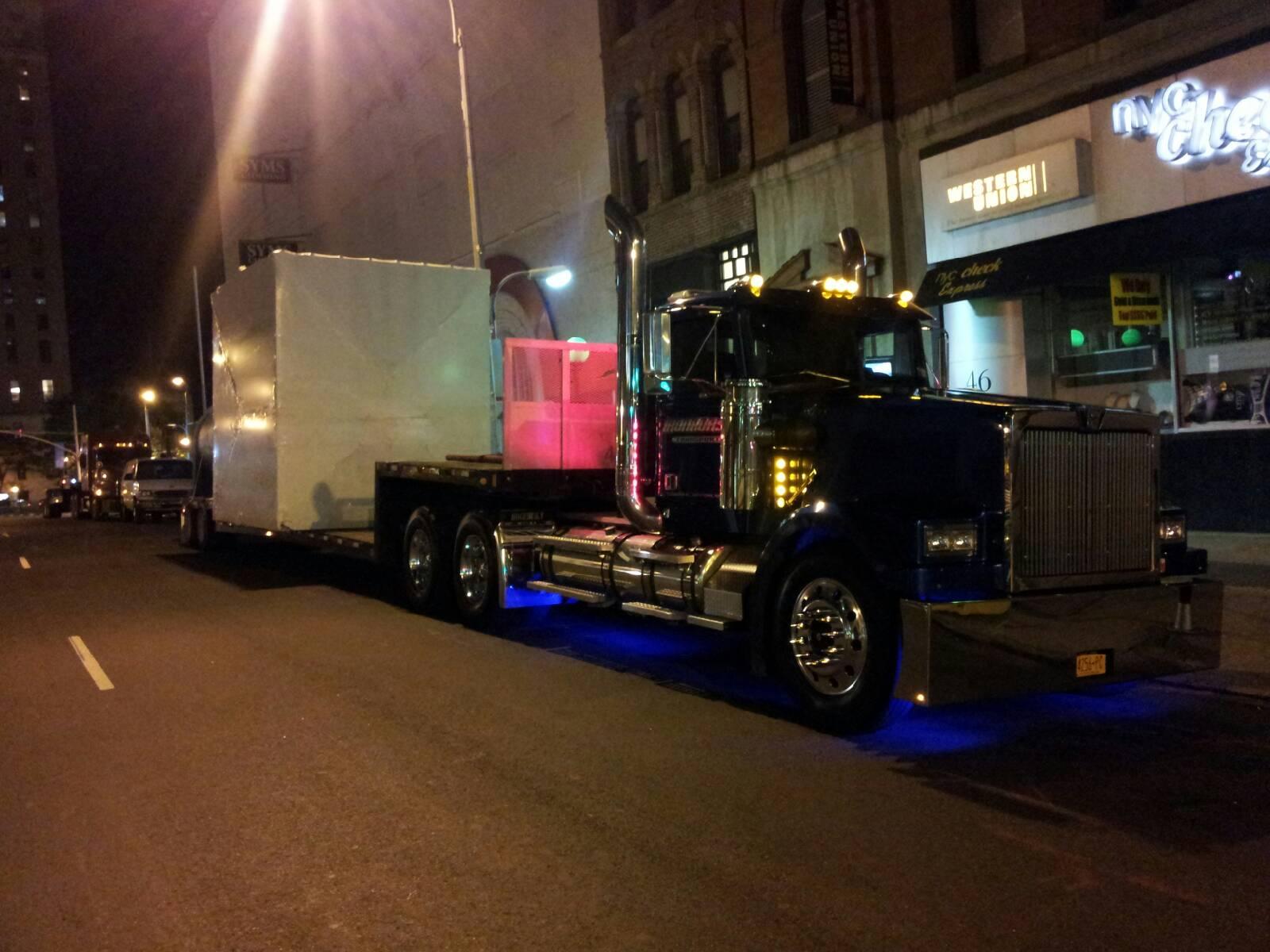 Double Drop Stretch Trailer
Suitable for the largest and longest freight out there, double drop stretch trailers bring the capabilities of New York trucking companies to a whole new level. Trailers of this style allow trucks to haul freight that is both longer and taller than the standard truck bed.
No matter how long or tall your freight is, our trucks can handle the load.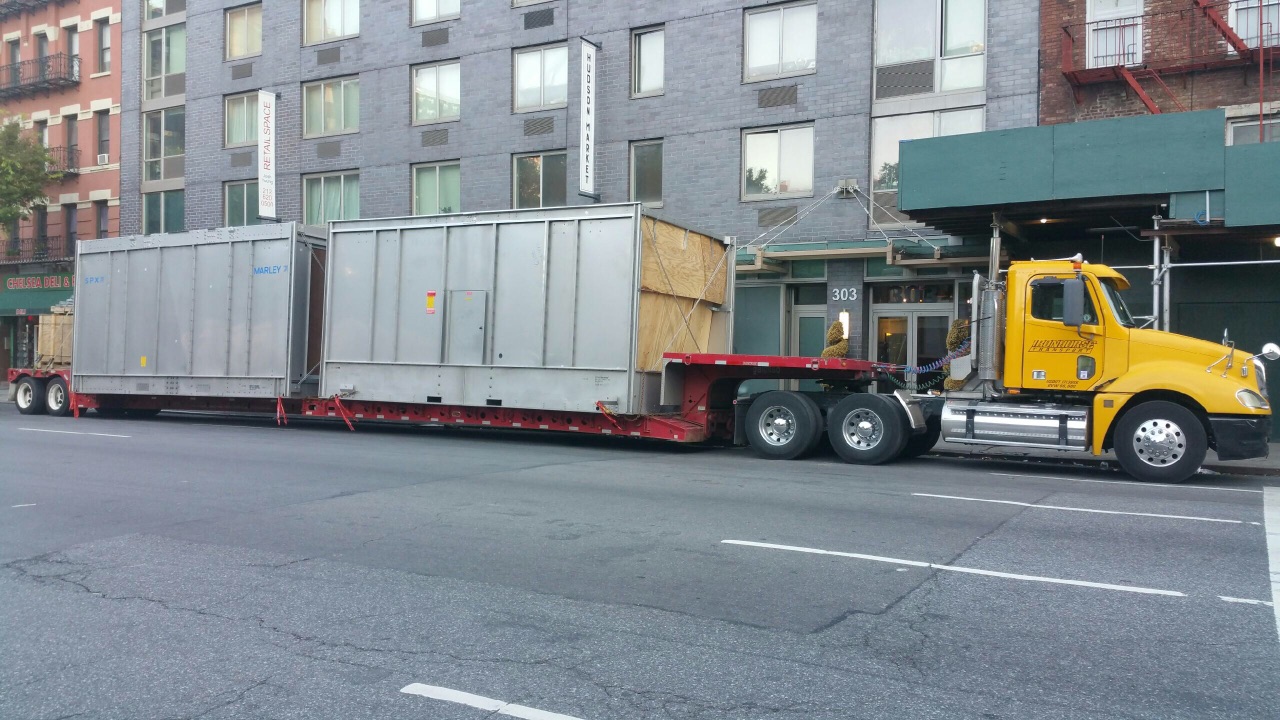 3. Other Considerations
More often than not, there are unique challenges associated with each shipment. As NYC trucking company professionals, we've prepared to overcome these challenges in unique ways.
Liftgate
Liftgates not only simplify the unload process- they take care of it in its entirety. Using hydraulics, this steel platform positioned at the end of the truck can easily be moved between the truck and ground. This saves both the truck drivers and union teamsters from lifting, and potentially, from injuries. In addition to simplifying the process, liftgates also help ensure that fragile materials do not break. This is critical during the last leg of transport for heavy appliances such as air conditioning units, which might break upon impact.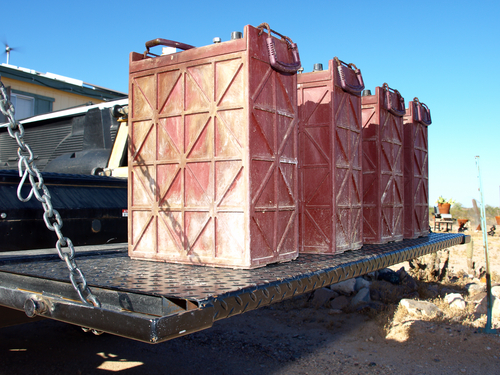 Forklift
Maneuvering palletized freight with a jack is tiresome work, which is why we provide forklifts when necessary. These machines can not only speed up the unload process, but can transport materials anywhere on the job site. For most union teamster, this process is preferable to manually unloading freight at a snail's pace. Our forklift operators are OSHA trained and certified, and can also contribute by lowering materials into a working area.
Over-Dimensional Transport
When the freight is too large for a standard trailer, drivers are forced to follow over-dimensional transport regulations. Being equipped for over-dimensional transport does not necessarily alter the vehicle itself. Rather, it involves adapting the driver's approach. Generally, trucks that are already on the larger size facilitate over-dimensional transport. This is the only way to transport freight that exceeds standard dimensions– and cannot be accommodated by a larger truck bed.
However, there are several safety precautions involved in successful over-dimensional transport. First, the New York trucking company must perform a route survey, to ensure that the truck avoids overpasses, and streets with narrow lanes. Secondly, we also acquire permits to comply with state regulations. When necessary, we also have a pilot car, to help the driver remain aware of upcoming obstructions.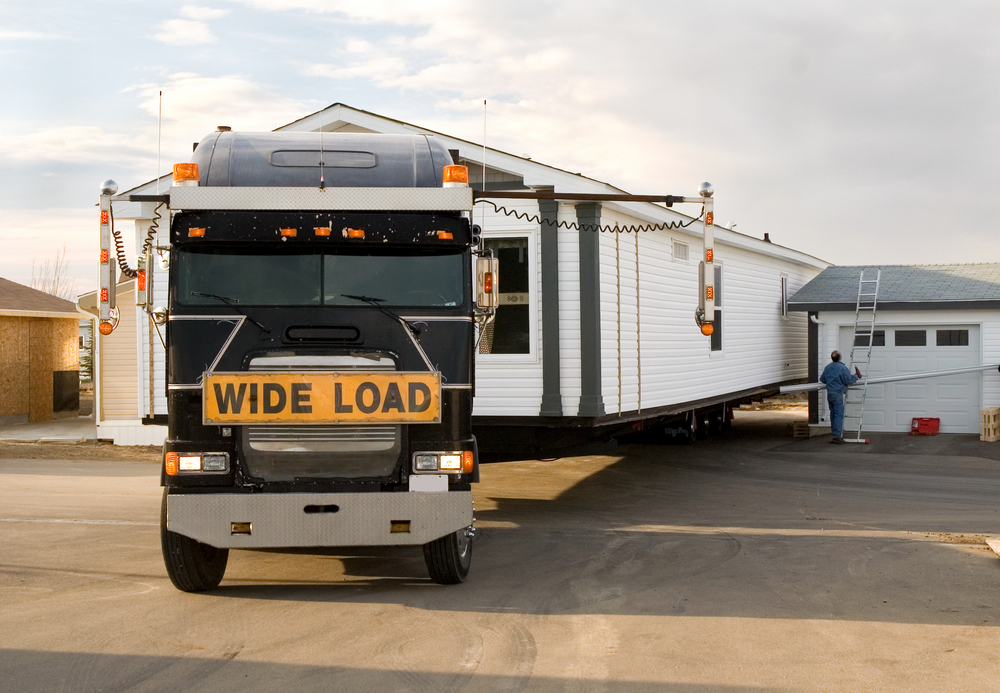 Our New York Trucking Company Fleet
As a New York trucking company with years of experience navigating this complicated city, we get it. We understand the ins and outs of NYC transport, and will deliver your freight undamaged.