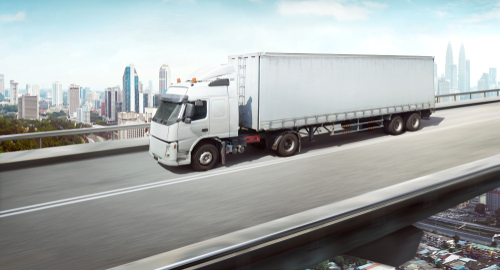 If your cargo is vulnerable to poor weather or climate conditions, dry van shipping is your best option. In fact, dry van shipping is one of the most popular methods for transport. And in this post, we'll answer some of the most frequently asked questions about dry van shipping.
Q: What is Dry Van Shipping?
In many cases, customers need to ship items that require extra protection. Certain materials can't be exposed to moisture, heat, cold or wind. Essentially, they need to be protected from the elements of Mother Nature. And that's where dry van shipping comes in.
Basically, a dry van truck protects freight from rain, wind, snow, etc. These trucks come in a wide variety of sizes. This way, they can shield even the largest materials. Here at Iron Horse Transport, we have dry vans that are 28, 48, and 53 feet long. After docking, this freight can be easily removed with a forklift. Also, trained operators can drive into the dry van for removal.
Q: What do Dry Vans Transport?
Obviously, any material that must be shipped in a clean, dry environment is ideal for dry van shipping. Often, dry van trucks transport construction materials to job sites. A lot of palletized materials, like lumber and insulation, ship with dry vans.
Dry van shipping is also ideal for transporting household appliances. When you sign for a brand-new washing machine, dryer or refrigerator, a dry van truck most likely brought it to you. Also, carpets, electrical wiring and furniture travel around the country in dry vans. Basically, anything that needs to stay dry, safe and stable needs to ship in a dry van truck.
Q: How does Dry Van Shipping Differ from other shipping methods?
Dry van shipping is distinct from other methods like refrigerated shipping (for perishable goods) or flatbed shipping (for oversized or oddly shaped items). Dry vans are fully enclosed and provide protection against weather and theft, making them suitable for a wide variety of cargo.
Q: What are the dimensions of a typical Dry Van shipping trailer?
Standard dry van trailers are usually 53 feet long, 8 feet wide, and about 9 to 9.5 feet tall. However, there are variations in size, including shorter trailers like 48-footers and 45-footers.
Q: How Secure Are Dry Vans?
Dry van trucks aren't just ideal for protecting cargo from the elements. While a major benefit of dry van shipments is total protection from rain and wind, it has a few additional assets as well. They're a foolproof way to make sure your freight ships in a totally secure and enclosed van. Dry vans keep shipments in locked, secured containers that prevent tampering, loss or theft.
This additional security makes dry van trucks the most in-demand equipment in trucking.
Q: What Are Their Limitations?
Obviously, dry van trucks are the most secure way to ship freight. However, it does have its limitations. While it's a fantastic way to ship materials, and protects them from the damage of rain, wind and snow, it's not ideal for certain items.
While dry van shipping is versatile, there are restrictions on hazardous materials and certain oversized or overweight cargo. It's essential to check with your shipping provider for specific guidelines on what can and cannot be shipped in a dry van.
Dry van trucks have several security features in place to protect cargo. However, these vans are not equipped with temperature control – i.e. refrigeration or freezers. Basically, this means that anything like perishable food items, or temperature-sensitive goods, should not ship with dry van trucks. So if you have anything that absolutely must be kept at a specific temperature, your best option is to look into temperature-controlled freight.
Q: Do Dry Van Trucks Have Air Ride Suspension?
These days, trucking companies employ the most modern, state-of-the-art technologies to safely deliver cargo. Obviously, dry van shipping is one of the best ways to keep materials intact. However, in our dry van trucks we also take additional precaution measures. Within each of our trucks is a system called air ride suspension.
Air ride suspension is the unique suspension system that supports both the dry van and tractor above the tires. In most vehicles, a steel spring system performs this function.
Rather than using steel that permits more movement, the air cushions installed within our trucks prevent the dry van and tractor from dropping. These air cushions, placed in between the freight cab and the tires, absorb the impact received from bumps, potholes and other obstacles that the steel springs normally take.
Essentially, air ride suspension eliminates movement and decreases harmful impact. Combined with dry van trucking, it's the most effective way to keep your items safe during shipment.
Q: Who Drives Them?
Sometimes, the most modern safety equipment isn't enough to guarantee efficient shipments. The best trucking companies also want to be sure each of their dry van trucks is driven by a great, experienced truck driver. And that's why all of our drivers are veterans with years of experience, and union- registered.
Throughout the years, our drivers and support staff have built meaningful relationships with job site superintendents. Between our dry van shipping and over-dimensional transport, we make sure each and every one of our trucks are in the right hands.
---
Conclusion
Naturally, as New York trucking company pros, Iron Horse Transport has special delivery options. Obviously, we want our customers to have as many options as they need. When you're shipping items through the NYC area, you can never be too careful. Using the right shipping method will prevent complications and damage to freight. Ultimately, the right choice will spare you and your business from wearisome, unnecessary headaches.
With years of experience trucking in New York City, Iron Horse Transport are experts in the safe, efficient shipment of materials. Whether it's dry van shipping or final mile delivery, we've got you covered.