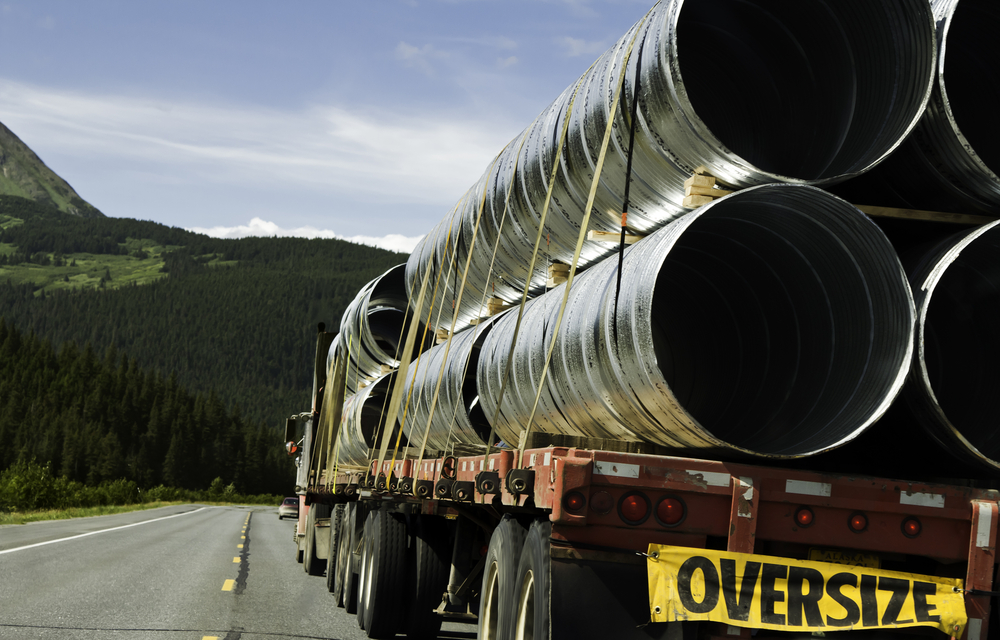 3 Ways IHT Successfully Ships Over-Dimensional Transport
Iron Horse Transport, as a New York trucking service, has several challenging factors to contend with. The operation of such massive vehicles will present challenges in any region. However, in New York City, these challenges are greatly amplified. Trucking services are now eclipsing rail shipments in terms of demand. Therefore, the need for expert trucking everywhere is more vital than ever.
Over-dimensional transport is difficult to navigate. Naturally, this is especially true for the NYC area. Nevertheless, Iron Horse Transport takes countless measures to ensure that 100% of our over-dimensional freights arrive swiftly and safely.
Below, you'll find some of the ways in which Iron Horse Transport guarantees safe and successful over-dimensional deliveries.
But first –
What is Over Dimensional Freight?
When cargo can't fit on a flatbed or trailer, it's considered "over-dimensional." As trailers are generally eight feet wide, freight larger than this would require additional caution. In rare cases, freight can extend up to fifteen feet wide, meaning it would hang over the bed.
Additionally, freight over a certain height on a trailer bed can also be over-dimensional transport. After passing a certain height, freight may interfere with signs, bridges, and other obstructions. In both of these cases, our NYC trucking company can ensure your freight will safely reach its destination.
These restrictions are especially problematic in NYC. The congested streets alone make even normal transportation a logistical nightmare. Safe navigation through an urban area is challenging. Therefore, the need for a reliable trucking company is vital to your business.
Here are some of the ways Iron Horse Transport executes safe and speedy over-dimensional shipments:
1. Expert Planning
At Iron Horse Transport, we firmly believe that our drivers can never be too prepared. Our drivers and back office support collaborate to ensure that all routes and shipments are planned to perfection.
Our planning includes route surveys. For over-dimensional transport, this is an indispensable step. We first determine the best route for our trucks to take. Next, we determine the width of the lanes during transportation. This includes test drives in advance to gauge the size of the lanes. Additionally, we can ensure there are no obstacles like overpasses and underpasses to interfere with your shipment.
2. Excellent Drivers
Iron Horse Transport places the highest importance on employing only the very best drivers. When determining who should transport oversized, expensive freight, no alternatives are acceptable.
Our drivers have years of experience transporting materials to and from construction sites. Since Iron Horse Transport has only the highest standards for our drivers, we can guarantee any and all shipments will be transported by the very best. Naturally, this includes over-dimensional freight.
Additionally, our drivers are extremely familiar with the streets and routes of New York City. Beyond the routes, our drivers understand the unique challenges associated with transporting over-dimensional freight through this area. And with their ample navigation experience, they can navigate these routes with expert precision. This is especially important during a final mile delivery, where the final destination is often within a densely populated neighborhood.
3. State-Of-The-Art Trucks
For any freight, including over-dimensional shipments, only safe, quality vehicles should be used. Cargo can often be fragile and expensive. All of trucks have state-of-the-art safety features to guarantee shipments arrive at their destination safely.
Each one of our trucks are equipped with air ride suspension. When it comes to keeping cargo safe, this is an invaluable tool. Air ride suspension is the unique suspension system that supports both the dry van and tractor above the tires. In most vehicles, a traditional steel spring system performs this function.
Essentially, the air cushions within our trucks absorb the impact from bumps, potholes or other obstacles. Air ride suspension will keep your over-dimensional freight shipments safe and intact.
Conclusion
At Iron Horse Transport, our sole priority has always been the safe and speedy delivery of cargo using only the most experienced drivers. We take careful, coordinated measures to meet these standards.
For more information on our NYC trucking services or to schedule a delivery, contact us today!