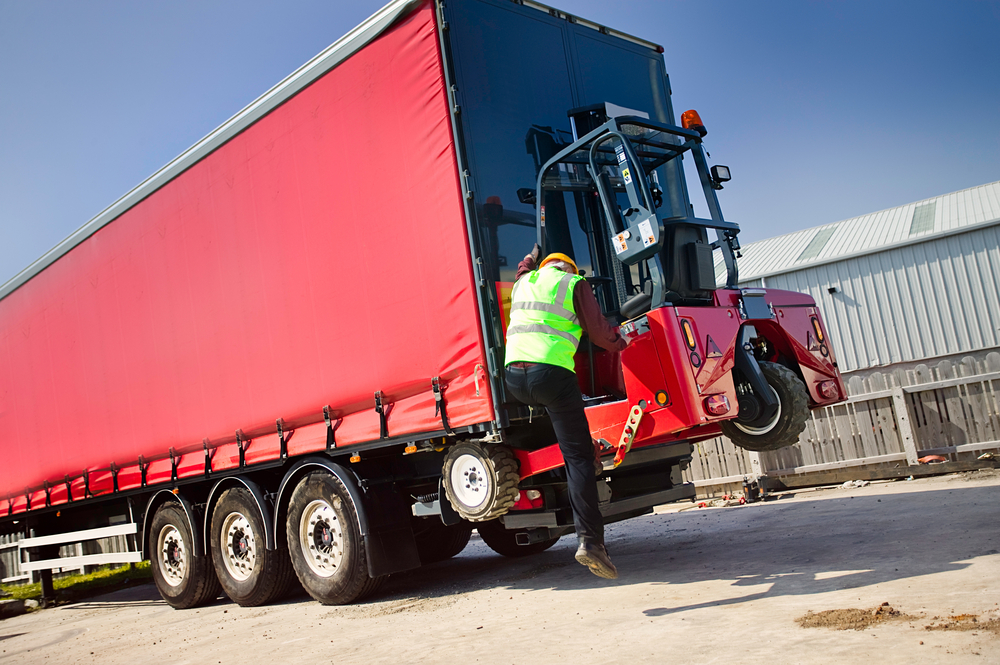 Truck-Mounted Forklifts: A Comprehensive Guide
Truck-mounted forklifts are an essential part of many modern union trucking services. They feature a special sleek and compact design. Basically, their size enables them to attach to flatbed trucks for quick transport to remote job sites. Often, they're lighter and less "heavy-duty" than traditional forklifts. However, these models are ideal for handling more-specific jobs covering rough or unstable terrain.
Operators mount these vehicles, also known as "piggyback" forklifts, on flatbeds and in dry vans. And, they often implement counterweights before departure. As a result, they're able to maximize front axle stability, keeping cargo safe and secure. In this post, we'll provide a guide to truck-mounted forklifts and their many diverse applications. Keep reading to find out more. 
What Will You Be Lifting? 
First and foremost, when selecting a truck-mounted forklift, consider what kind of cargo you'll be lifting with it. Certain products require different models of forklifts or specific attachments for efficient maneuvering. Truck-mounted forklifts are generally smaller and less powerful. Therefore, it's essential that you don't try to exceed its lift with over-dimensional cargo. 
The size of the forklift you choose depends on the maximum load weight you'll have, average weight per load and the average distance per delivery. Obviously, the heavier loads require more solid equipment. Therefore, if you're going to be regularly moving bigger loads on the job site, you might consider using a traditional forklift rather than trying to do too much with a truck-mounted forklift.
Will Special Attachments Be Necessary? 
In some cases, a special attachment will be necessary. For example, some truck-mounted forklifts come with attachments like lumber packages for handling long lengths of lumber. These include lumber style forks and a support to rest the product above the frame of the forklift while it's moving.
Another consideration when selecting a truck-mounted forklift is what type of deliveries you plan on making with it. Some jobs require the maneuverability of all-wheel drive. This can provide safer, more efficient control of deliveries, especially in paved yards or rough terrain. Tractor grip tires will  provide additional handling capacity on rougher job sites.
The Right Vehicle for the Job
For less hazardous terrain, such as residential areas where the vehicle will be moving over grass or driveways, less aggressive grip turf tires would be a better choice so they don't cause damage. In areas where there is less room to turn around, such as on a narrow city street or busy road, you might consider getting a truck mounted forklift with a pantograph reach so you can reach across a deck and lift full capacity loads.
Because truck mounted forklifts are frequently used outdoors, accounting for potential extreme weather should also be a consideration when making your selection. If the vehicle is going to be used in extreme cold, for example, you may want to consider one that has a block heater and uses cold temperature rated fuels.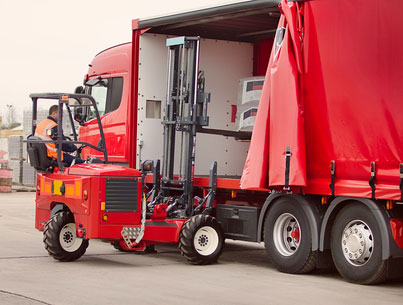 4 Ideal Industries for Truck-Mounted Forklifts 
---
1. Construction 
Obviously, construction sites are the first place that comes to mind when contemplating any sort of equipment like a forklift. Also, most of us know that construction sites aren't the most orderly of places. Equipment, tools, supplies, and crew members create a lot of congestion. Therefore, a compact, truck-mounted forklift is just the right kind of machinery, with the maneuverability to unload materials like lumber, bricks, roofing shingles, and drywall in hard-to-reach or confined spaces.
2. Recycling 
In dusty, debris-ridden recycling centers, truck-mounted forklifts perform one of their toughest applications. Here, they offload incoming material at processing stations and deliver paper, plastic, metal waste and more for outbound shipment by truck and rail.
3. Distribution Centers 
Forklifts unload and lift pallets of drums, crates, and stacked boxes, transporting goods to locations quickly and efficiently.
4. Agriculture 
In their agricultural application, truck-mounted forklifts carry materials to farms. Then, they act like a mechanical farmhand, delivering everything from fertilizers to animal feed and fencing supplies wherever necessary on the property.

Conclusion
When it comes to industry-leading trucking, Iron Horse Transport is second to none. We've been providing trucking services in the New York City area for decades. Everything from our route surveys to lift gates are in place for the sole purpose of providing exceptional service. In addition, we constantly strive to be better, operate faster and work harder.
Therefore, we now offer truck-mounted forklifts as part of our diverse selection of dynamic services. If your construction site or business is in need of compact and portable forklifts, contact Iron Horse Transport today for more information.