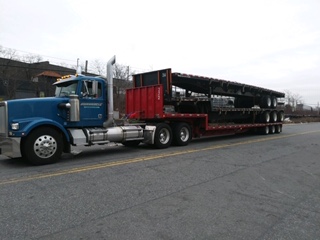 Why Choose a Union Shipping Company?
Unions are the backbone of America. Here at Iron Horse Transport, we are proud members of Local 282. Local 282 has played an integral part in the construction of New York City since it began in 1903. In 2007 we began as a small operation and have grown to triple our size in the past decade. Our commitment to integrity and accountability is what our customers value most. Belonging to this specific union means that we have over 100 years of experience and education backing our staff.
Whether you're in need of our drayage services, over dimensional transport, or specialty final mile delivery, we have the service for you.
Additionally, being members of the International Brotherhood of Teamsters means we are up to date and always looking for ways to improve the ways we can service New York City, the 5 boroughs and Long Island.
What Does it Mean When you Choose Union for NY Trucking Services?
Unions ensure all members get an equal education and adhere strictly to safety standards.
Safety:
Union members are required to stay up to date on certifications. The OSHA 30 class, defensive driving, forklift safety, and hazardous material handling are just a few of them. The classes range from 8 hours to 40 hours. The depth of the material dictates the amount of time needed to teach the material and test the members. Accordingly, these classes ensure that members continue their education and remain vigilant when handling your goods. Labor unions also stand up for it's members. They are the liaisons between workers and contractors guaranteeing fair wages and safe working conditions are available. Undeniably, safety and adequate compensation ensure high quality work and dedication.
Education:
Before a member even begins the safety certifications, they are required to complete an apprenticeship program. Apprentices gain real time and real work experience alongside journeymen (those who have graduated). Apprenticeship programs range from two years to five years. During an apprenticeship, members are offered the opportunity to get a college degree. For those who opt out of that, they are able to become licensed or certified in other areas of specialty. Therefore, this benefits customers in the long run as union members have numerous skills to offer. Local 282 members are also encouraged to improve their licensure levels to provide quality workers for all phases of driving and delivery.
Quality:
The standards put in place by unions serve as a level playing field for all. They benefit the community by providing an equal opportunity to all. Union members can work knowing safety protocols are strictly enforced. In turn these benefits not only the members themselves, but their families and the contractors they are working for. Transparency is key within the union. That means that choosing to work with the union ensures you will know exactly where your hard-earned money is being spent. It is certain that you will receive top quality services every time.
How Unions Benefit Americans
At the end of the day, we all have a job to do. Every level of service helps to build a company and make it strong. From our back-office support to our drivers on the road, everyone deserves to make a fair living. It's not always that simple in today's day and age. That's where the union comes in. Firstly, unions help to keep Americans safe and make certain they get to go home to their families at the end of the day. Union members make a living wage and are paid enough to support themselves and their families. Secondly, when Americans are paid an appropriate wage, their health benefits greatly. People in unions have access to healthcare and are more likely to seek medical care before things escalate. This in turn saves American's millions of dollars. Finally, unions set the standard for education and safety for all it's members.
Why Choose Iron Horse Transport
Aside from being loyal and proud union members, since we began in 2007, our dedication to our customers speaks for itself. Timely and safe delivery are of the utmost importance to us. Our equipment is efficient, and we have the right means to transport everything you need.
We understand you don't want to trust just anyone with your expensive materials. Iron Horse Transport has faithfully and methodically served New York and New Jersey for over a decade. Let us help you.